It's a great pleasure to introduce our new Managing Director to you.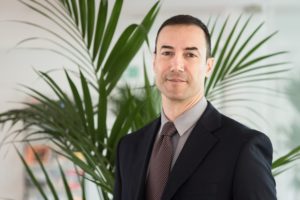 Emanuele Mastrodonato, a chartered Electronic Engineer, has been working for the railways since 2002 at the Italian Infrastructure manager RFI and more recently at CER, the Community of European Railways and Infrastructure Companies.
For RFI he worked as a Project Manager, taking the responsibility for major construction and maintenance contracts.
He collected experience in the Technical Department and in the Operation & Sales Department, as well as in the Departments of Investments and Production.
In 2015, Emanuele joined CER as Senior Advisor on EU Railway Agency issues (ERA) and Digitalisation. As such, he represents CER in several EU railway working groups dealing with Telematics and Interoperability for freight and passenger transport.
In the past, Emanuele had the opportunity to sharpen his multimodal profile having worked for freight on road and served as an Officer for the Italian Navy. Emanuele will start in January 2019.
Our warmest welcome!
Follow the link to visit his LinkedIn profile: "https://www.linkedin.com/in/mastrodonato/"