Last Tuesday, May 30, ScanMed RFC participated in the first Rail Transport Day in Stockholm. The event was co-organized by the European Commission, RNE, Trafikverket, Europe's Rail Joint Undertaking, and the Swedish Presidency of the Council of the EU.
After keynote speeches from Kristian Schmidt, Director for Land Transport at DG MOVE, Andreas Carlsson, Swedish Minister for Infrastructure and Housing, Roberto Maiorana, Director-General of Trafikverket, Paul Mazataud, President of RNE, and Giorgio Travaini, Executive Director of Europe's Rail, the event proceeded with four main panel discussions – each of which also allowed for questions from the audience and interactive opinion polls.
The first session, moderated by ScanMed RFC President Linda Thulin and figuring ScanMed RFC Vice-President Oliver Sellnick and TAG Speaker Federica Montaresi among the panelists, verted on "A Rail Freight Users' Perspective." The speakers discussed cross-border and multimodal freight transport and ways to make it easily accessible at international level. Cooperation, coordination, and joint efforts were the key themes, as the entire transport logistics chain must reflect on ways to create new opportunities based on market needs.
The second session, moderated by Kathrin Obst, Deputy Head of Unit "Single European Rail Area" at DG MOVE, focused on "Seamless Rail Ticketing." Panelists talked about how to enable transport users to easily access all rail offers and thus encourage them to make more sustainable transport choices. They explored how we can improve the rail planning and booking experience, looked at the next steps that should be taken at sector and EU levels to respond to commercial and technical barriers, and discussed how enhanced cooperation between IMs, transport operators, and MDMS can allow for seamless rail journeys.
The third session, moderated by Rhine-Alpine RFC President Guus de Mol and figuring Linda Thulin as a panelist, centered on "Optimizing Rail Capacity Management." Speakers debated how capacity management should ensure that the market can utilize the rail network from origin to destination through Europe and beyond. Overcoming domestic thinking, plan capacity jointly and in advance, and providing high quality timetables with easy access were brought up as potential solutions.
Finally, the fourth and last session, moderated by Keir Fitch, Head of Unit "Rail Safety and Interoperability" at DG MOVE, approached the issue of "Digital Railway Systems." Panelists considered the role of digitalization in making rail transport more reliable and flexible, reducing costs, and increasing capacity. Here, the focus was on the deployment of the Digital Automatic Coupler (DAC); the integration of assets status evolution information with Traffic Management System (TMS); and the tracking and tracing of trains, wagons, and containers.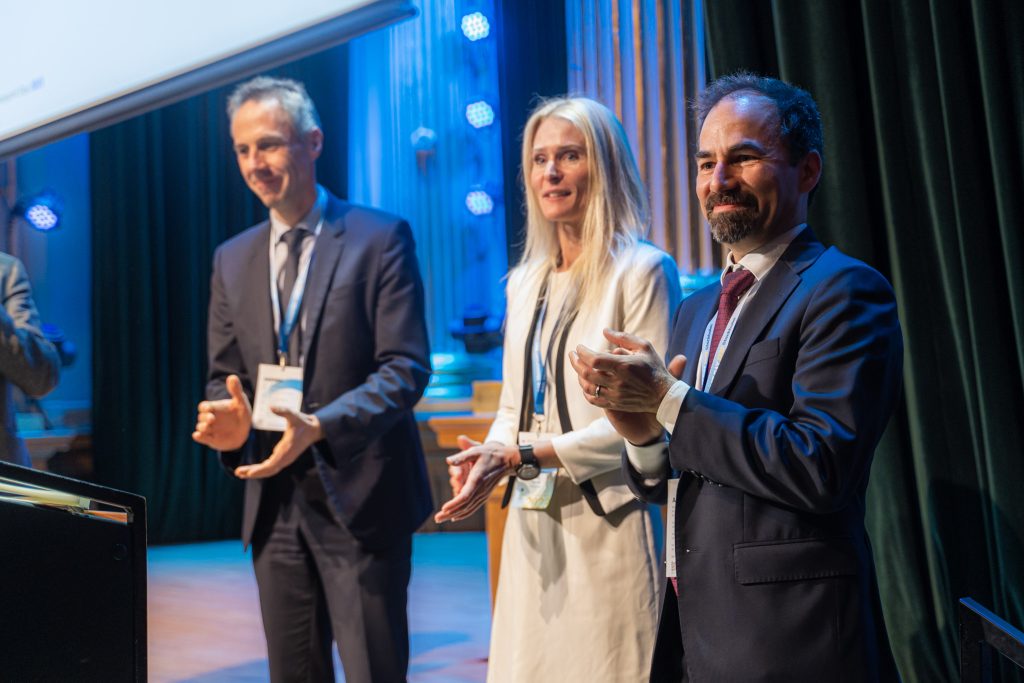 Toward the end of the day, RNE and Europe's Rail also signed a Memorandum of Understanding through which they committed themselves to foster an integrated, high-capacity European railway network by eliminating barriers to interoperability and building upon a harmonised functional system architecture.
The event was concluded by Sandro Santamato, Head of Unit "Single European Rail Area" at DG MOVE, who briefly recapitulated the panel discussions and delivered some final remarks. Participants from our Corridor – including some Team members, PIMs, and MaBo members – deemed the day a remarkable success. We congratulate all co-organizers for an impeccable event and thank the panelists and moderators for their insights. We look forward to next year's second edition of the Rail Transport Day!