On November 14, ScanMed RFC Managing Director Furio Bombardi attended the 19th Corridor Forum Meeting of the Scandinavian – Mediterranean Core Network Corridor in Brussels. To begin with, EU Coordinator Pat Cox welcomed participants and provided an overview of his activities since the last Corridor Forum gathering in June 2023.
Afterward, DG MOVE and CINEA officials held briefings on the latest EU developments regarding the Corridor, starting with the state of play and main elements of the revised TEN-T Regulation that should be enter into force in spring 2024. Among the priorities which emerged from interinstitutional negotiations figure military mobility, improved connections with the Western Balkans, Ukraine, and Moldova, and the network's climate resilience. As previously announced, the CNCs will be transformed into European Transport Corridors (ETCs). Additionally, the Commission presented some statistics on current CEF II spending, the 2023 CEF Transport Calls for proposals, and Horizon Europe funding for projects falling under climate, energy, and mobility policy (Pillar 2, Cluster 5).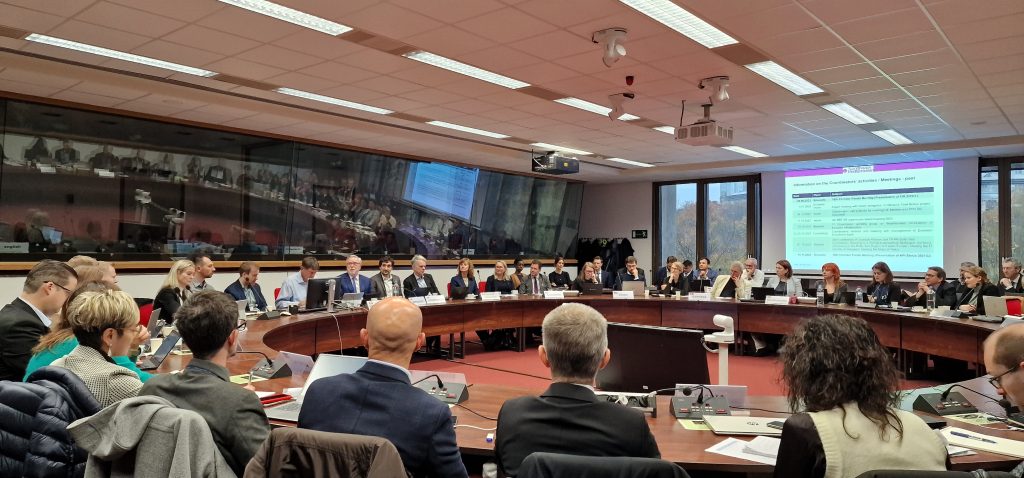 Later, Uwe Sondermann, KombiConsult lead consultant of the ScanMed CNC study contractor consortium, presented the results of the selected KPIs analysis, including the change in compliance rates between 2019 and 2023. Regarding rail indicators, there has been progress on the loading gauge, but on issues such as the maximum train length, maximum axle load, line speed, and electrification, there has been a slight decrease in compliance. Furthermore, he summarized the outcome of a WG meeting on large infrastructure projects along the Corridor, including the Femern Belt and Brenner tunnels.
Then, Christer Löfving, Chief Strategist at Trafikverket, reported on rail innovations such as Digital Automatic Coupling (DAC) and their applicability on the Corridor by 2030. His presentation was followed by that of Raffaele Vergnani, Project Manager at POLIS Network, who talked about the ScanMed Observatory at MOVE21 and its focus on interfaces between TEN-T policy and urban mobility, particularly considering the growing importance of urban nodes along the Corridor.
Afterward, a representative from HaDEA discussed the CEF Digital programme, its 5G Corridors and their synergies with TEN-T policies. Specifically, he outlined the 5G Northern European Transport Corridor, led by Mobile Network Operators (MNOs) and spanning involving both road and rail transport. Finally, an official from the City of Copenhagen presented the Öresund Metro project, a cross-border light rail underground connecting the cities of Malmö and Copenhagen with the potential to enhance capacity for additional freight and long-distance trains along this key bottleneck.