On June 6, ScanMed RFC Managing Director Furio Bombardi attended the 18th Corridor Forum Meeting of the Scandinavian – Mediterranean Core Network Corridor in Brussels. To begin with, EU Coordinator Pat Cox welcomed participants and provided an overview of his activities since the last Corridor Forum gathering in September 2022.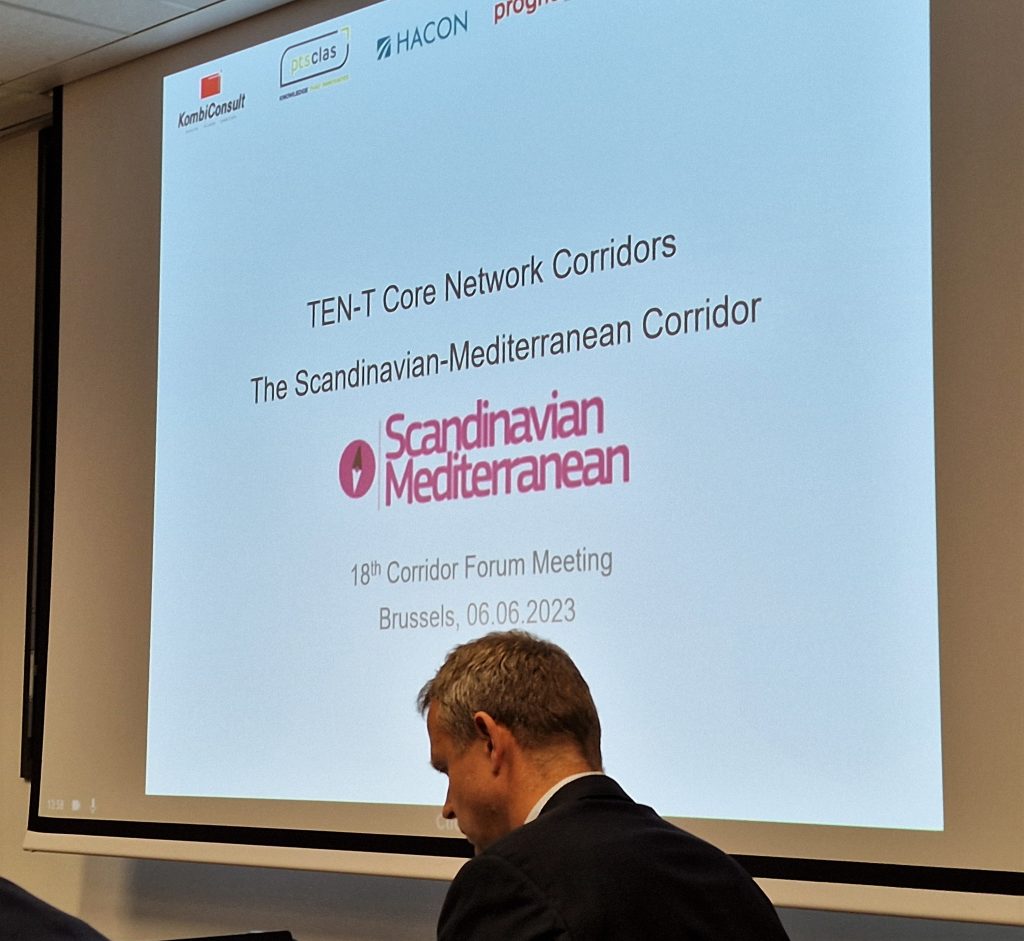 Afterward, DG MOVE and CINEA officials held briefings on the latest EU developments regarding the Corridor, starting with the state of play and main elements of the revised TEN-T Regulation that should be adopted at the end of 2023. Additionally, they presented some statistics on CEF II, the Military Mobility and Alternative Fuels Infrastructure Facility (AFIF) calls, the online public dashboard for EU funding, and the draft status of the report outlining CEF III ("A Stronger and More Resilient Europe"). Finally, the Commission introduced the role of Urban Mobility policy in the TEN-T urban nodes as well as a planned study on TEN-T climate adaptation and cross-border investment needs.
Later, Uwe Sondermann, KombiConsult lead consultant of the ScanMed CNC study contractor consortium, presented the results of the Project Implementation Report 2023-1 as well as an update of a few Key Performance Indicators (KPIs) in the TENtec system, including loading gauge, maximum train length, maximum axle load, line speed, track gauge, and electrification. 
Then, a representative from Ferrovie dello Stato (FS Group) reported on the concept of financing large infrastructure projects using the example of the upgrade of the Palermo – Catania railway line. His presentation was followed by a study on how inflation or price adjustments are taken into account by BBT SE for the Brenner Base Tunnel project. Furthermore, a project manager at STRING, an association of seven municipalities and eight regions from Norway, Sweden, Denmark, and Germany, provided an overview of the Greater4H initiative, which aims to set up a cross-border hydrogen refueling network across Northern Europe.
Finally, Linda Carolina Ehnmark from the Eastern Norway County Network, a cooperation body between four counties in the southeastern part of Norway, informed participants about the Network's ambition to study three transport links connecting the region to the neighboring countries – namely the Oslo – Gotheburg stretch, the Jutland Corridor, and the Oslo – Stockholm line.