Mercitalia Logistics, the Sub-Holding for the logistics and freight business of Ferrovie dello Stato Italiane, and ScanMed-RFC met up in Rome on the 10-Jan-2022, to discuss climate and market goals. From their perspective, rail is, undoubtedly, one of the most climate and environmentally friendly modes of transporting goods in Europe.
Mercitalia Logistics, with its controlled companies Mercitalia Rail, TX Logistik and Mercitalia Intermodal, and ScanMed-RFC will work together to be part of the solution for a greener Europe. 
By signing the Climate Declaration, they declared the commitment of the companies they manage to:
reduce the carbon footprint in the transport chain by promoting rail transport;
develop concrete actions to shift more goods from road to rail;
increase reliability and simplicity in the freight transport chain;
increase the quality of the transport services they provide.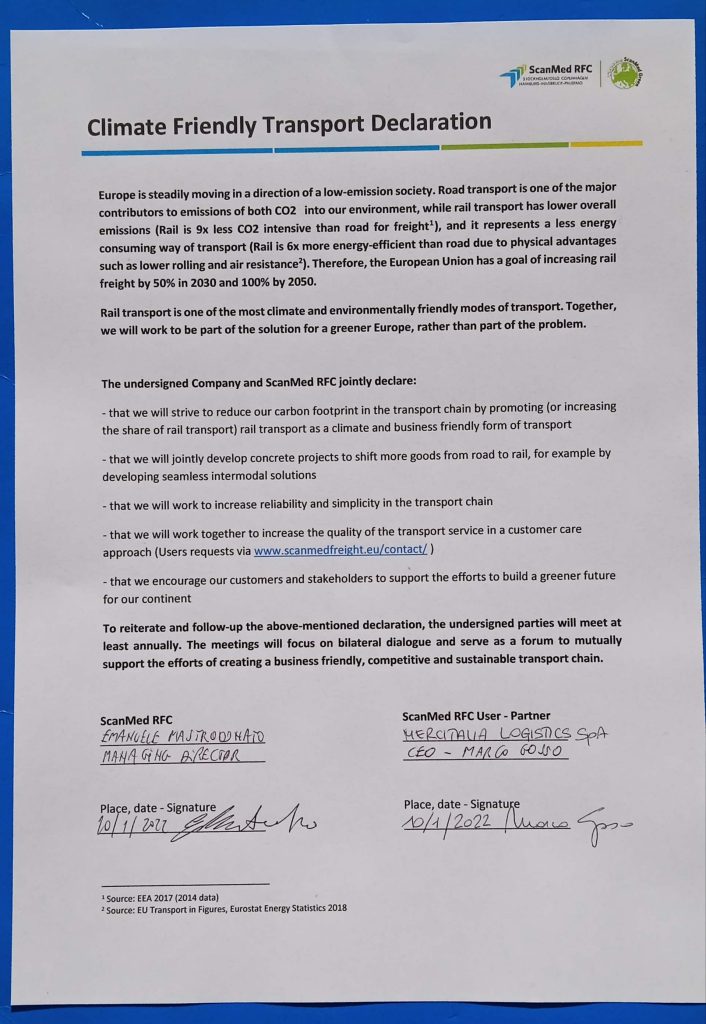 The ScanMed RFC Climate Declaration has been signed by Marco Gosso – CEO of Mercitalia Logistics and Emanuele Mastrodonato, Managing Director of ScanMed RFC, in Rome on the occasion of a meeting organized by Gian Paolo Gotelli – International Director of Mercitalia Logistics.
ScanMed RFC underlines how important is the good cooperation with Mercitalia Group, one of the biggest player on the Scandinavian-Mediterranean corridor.